Dedicated to the early diagnosis and treatment of Alzheimer's disease and related dementias.
Supporting, Not Supplanting, Primary Care Providers.
Georgia Memory Net is dedicated to providing Primary Care Providers with the resources they need to get fast, accurate diagnoses for their patients who exhibit signs of memory loss or cognitive impairment. Then we provide planning and connection to community services to support Primary Care Providers in the ongoing care of their patients. Georgia Memory Net is made possible by a mandate from Georgia State Legislature.
The Primary Care Provider assesses an individual's memory and cognitive ability, either through the Annual Wellness Visit or other observations.
When memory loss or cognitive impairment is evident, the Primary Care Provider refers individuals to one of Georgia Memory Net's Memory Assessment Clinics.
After a diagnostic session and a results appointment, the diagnosis and care plan are shared with the Primary Care Provider.
The Primary Care Provider manages the patient's ongoing care, supported with the latest diagnostic and treatment information.
Meanwhile, diagnosed Georgians and their caregivers are linked to community support resources in their area through Georgia Memory Net's Community Service Educators.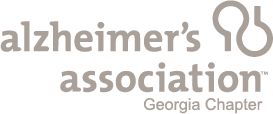 Get an overview of the Georgia Memory Net program to better understand the need, our intent and our future goals.